My Best Friend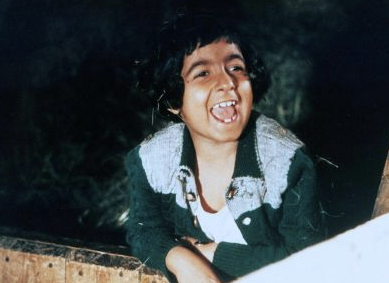 Most women are hard on themselves – my best friend is no exception; and since she would never show off her accomplishments, I would like to honor her with this profile. In my eyes she is a true role model when it comes to women who dare. I am proud of my best friend, who is about to pursue her career as a doctor with her residency coming up, and who, as she puts it, aims to "live love along the way."
Although the odds are against her, when she has to leave her home in Teheran, Arghavan Sadeghi-Seragi becomes a success story. At 8-years-old she is playing the main character in
"Sidonie"
an Austrian feature film. Speaking of talent, around the same age, she discovers her love for playing the piano, and doesn't stop playing until she gets denied studying music at a university. Luckily she finds another passion. At only 28-years-old, Arghavan has become a doctor. In a male dominated practice, Arghavan has to constantly prove herself, but she is ready to embrace her womanhood and prove that she is well capable of pursuing her goals.
But let's go back to the beginning: At 4-years-old Arghavan Sadeghi-Seragi has to leave Teheran – a war stricken country – with her family, especially, as she explains, since the opera house is completely destroyed, meaning, her dad – an opera singer – will not be able to perform anymore. In Vienna, the small family begins a new life. Arghavan adjusts quickly, but feels a little foreign in her new home, "people, I must confess, did view us differently, xenophobia existed back then, although we were just trying our best to become honorable members of society." Tragically, Arghavan's young life has similarities to a very important role she is going to play a few years later.
When Argahavan is 8-years-old, a family friend hears about a casting for a movie by Karin Brandauer, a well-known Austrian filmmaker. After auditioning twice, Arghavan is picked for the main role,
Sidonie Adlersburg
, a dark skinned, gypsy, orphanage girl who is being raised by an Austrian couple. At only 10-years old, Sidonie gets deported and becomes a victim of Hitler's regime. "I looked so similar to Sidonie, that when her real brother visited the film-set, he started crying when he saw me, and wasn't able to stop while reminiscing on painful childhood memories of his sister."
Although the movie receives great reviews, Arghavan does not continue her acting career. After all, she is only a little girl. More importantly, she likes spending time with her younger sister, Pardis. When the family moves to Germany, Arghavan feels like she has been accepted. "Here [in Germany] I was not a foreigner, I was a citizen just like everybody else." And while her dad is performing at the theater in Bremerhaven – which becomes their new hometown – Arghavan is playing her piano. After obtaining her General Entrance Certification in Germany, with superb grades, Arghavan wants to study the piano [music] at university level. When she does not get accepted, she enrolls at a university in Düsseldorf majoring in Romanistic studies, but drops out later to study medicine.
"I have always been interested in medicine but never dared to go for it." Just like Sidonie, who is being mocked for her dark skin and tries to wash off her skin color with soap, Arghavan felt like she has been living in a shell that hasn't really been herself up until that point; after all she was not allowed to pursue musical studies and tried substituting music with literature and language, before finally finding herself in medicine. Women who want to have a career should trust their abilities and not let anyone bring them down, says Arghavan. "As a woman it is very important to me, that I embrace my femininity, especially in the field of gynecology [in which Arghavan specializes] in order to pay respect to my patients and their privacy, I have to stand by my womanhood and nurture it."
Some day, Arghavan wants to have children. She thinks that only both, a career and children, can make a balanced self. Arghavan is now looking forward to her residency, while practicing gynecology and working in a team and help keep people healthy. I believe I can learn something from patients, colleagues, people on the street, or anyone I will encounter in the future. Arghavan's most important message is "one has to remain authentic and be oneself," and while Arghavan is looking forward to pursuing her career, she is happy she will keep moving, "as long as I know I am moving,
I am happy
."